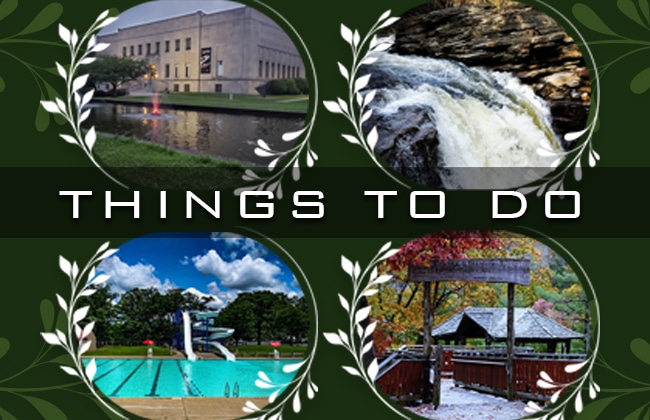 This two mile waterfall hike in Nay Aug Park provides the perfect year round activity…it even includes a tree house. Wear comfortable shoes for your hike along the Davis Trail loop that is perfect for walkers and hikers of all skill levels. You can bring your pet along, as long as they remain on a leash at all times.
The entrance to the trail is in the south east corner of the park behind the McNulty Greenhouse.  Once you past under the large sign announcing the Davis Trail your adventure begins. There are various platforms that will offer you a clear view of the rushing water and rock formations that are centuries old. Stroll along the trail that also features a tree house that overlooks the spectacular gorge (swimming is prohibited in the gorge). Feel as though you are in the middle of a forest as you make your way to your destination. Finally, you hear the sound of rushing water, a sign that you are close to the waterfall that boasts a 20 foot drop that empties into the picturesque gorge.
In the spring… take in nature coming to life….the summer brings the beauty of the lush greens and trees in bloom as the wildlife shares the same pathway as you!  The fall season will show you a display of vibrant colors as well as nature preparing for its well-deserved rest. The winter months are a time to be careful on the trail. While the ice formations and ice crystal covered plants and trees are breathtaking….please be aware of the slippery conditions that will exist.
Bring a camera, a picnic lunch as well as your sense of adventure to capture the natural beauty of nature at its finest!
Back to Map